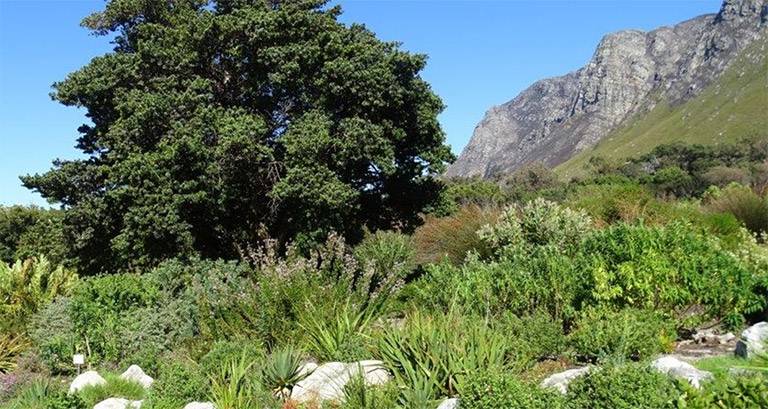 The photo above was taken in February 2019 inside Harold Porter Botanical Gardens.
The Kogelberg Nature Reserve is open to visitors after a short closure following wildfires that started on 1 January. The scenic Palmiet River Trail of 10 kilometres and the longer Palmiet River Valley mountain bike route of 22 kilometres are both open. Many of the other routes within the 3000 hectare property are currently not available to hikers. The Oudebosch Eco Cabins in the Kogelberg Nature Reserve are open and available for bookings. For more information please visit the Cape Nature website.
Harold Porter Botanical Gardens are open to visitors and continues to offer a tranquil environment for picnics and short walks. The Saturday ParkRuns continue and offer participants free entry to the Garden. Also free is admission to pensioners on the first Tuesday of every month. The Disa Kloof Waterfall is open while the Leopard's Kloof Waterfall, Fynbos and Zigzag trails along with the Oudebosch trail which meanders between the Garden and the Kogelberg Nature Reserve are still closed. These temporary closures are in effect until further notice.
Kogelberg Nature Reserve can be contacted on 087 288 0499. Their emergency number is 082 783 8585. For Kogelberg accommodation and permit bookings phone 021 483 0190. For any queries about Harold Porter Botanical Gardens phone 028 272 9311 or email harold.porter.nbg@sanbi.org.za
Visitors who are interested in hiking in the Hangklip Kleinmond area can contact Hangklip Kleinmond Tourism on 028 271 5657, Daleen Swart of the Kleinmond Hiking Club at 082 5626375, Capetourino's Klem Dunstan at 083 298 0654 or Conrad of Biosphere Breakaway on 083 532 5622.